The Tin Forest is a very powerful book with little text but lots of good imagery throughout. The story starts "There was once a wide windswept place….in the middle of nowhere and close to fogotten." In this place, filled with rubbish, lives a little old man who spends his days sorting and sifting through the rubbish that no one wants, but at night he dreams of a forest with animals. The illustration of this is beautiful, the illustrator uses lots of bright colours to really contrast with the reality of the old mans life.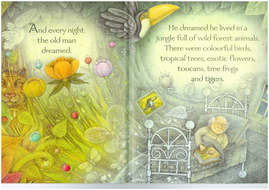 The book goes on to tell the story of a bird arriving in the forest and the bird keeps the old man company, by singing to him, until on day the bird is no longer there. Heartbroken the old man searches for him but the bird is nowehere to be found. Later the bird flies back to the old mans forest with his partner and they drop real seeds which start to grow.
We used this book in guided reading and than picked it up in english to write the story with a new setting in Year 2.
Some ideas;
We just gave the children the first two pages and got them to predict what the story might be about, who might live in the small house and why it's called Tin Forest.
Expore the use of alliteration in the book.
Inference on what the old man might be like and how the old man is feeling in the story.
Descriptive writing on the setting, and the old man's house.